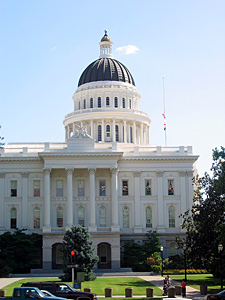 A Liberal OC source spoke to Senator Perata yesterday about the budget.  Contrary to some of what has been printed in the media, he is not optimistic about reaching any kind of a budget deal any time soon. 
At this time, he does not see how the final budget will come together.  Perata said that the other side appears to be in disarray at to what they "really" want…  
The Governor has scheduled a press conference on the Budget for 11:15 this morning. It will be webcast on the Governor's website at http://gov.ca.govThe following went out from Perata yesterday. 
 July 30, 2008
 Dear Friends:
 It's trial balloon time in Sacramento – that crazy point in state budget negotiations when all sorts of fanciful notions are floated as "solutions" to the state's budget crisis. 
The latest example is the idea of raiding Prop. 42 transportation funds to help close the budget gap.
 I have a one-word answer: NO!
 One thing we've done right in California is work together to rebuild our long-neglected infrastructure. Thanks to our efforts, we're building the roads, schools, housing and flood control projects we're going to need to turn California's economy around – and keep people working until it does.
 I see Prop. 42 – and Prop. 1A – as key components in these efforts. Raiding these funds now would break faith with voters who joined us in supporting the plan to rebuild California, and slow down one of the state's best engines for economic growth.
 We need a long-term solution to put California back on sound fiscal ground – not more short-term borrowing and short-sided thinking. I can't stop people from floating trial balloons in Sacramento, but I can sure shoot this one down before it gets very far.
 Sincerely,
Don Perata
Senate President pro Tem