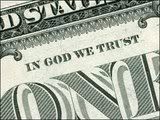 It looks like there is another push for the phrase "In God We Trust" but this time it's in Huntington Beach.  Gila wrote about the previous attempt by Westminster to have the phrase to be on display at the School District since the City Hall had already added the phrase behind the council dais.  It was not approved by the City council but it's obvious that this is a "trend" and I question where the push for the phrase is come from.  It was just last year that the Bakersfield School district approved the display of the phrase for every classroom in the district. 
So the latest City to consider this is Huntington Beach.  There is going to be a a City Council meeting to night and this issue is on their agenda.  The question to ask, is this a partisan issue?  The organization behind the push called In God We Trust Inc. and they've made it their mission "To Promote Patriotism By Encouraging Elected City Officials To Display Our National Motto "In God We Trust" In Every City Hall In America."
In God We Trust Inc. calls itself a 501C3 and an "Education Corporation" but there is a political motivation even if the organization would like you to think otherwise.  The secretary of In God We Trust Inc is Mark Abernathy, who is with Western Pacific Research, Inc., so?  Well, just go to Western Pacific Research's website and you will see that they have their own "mission".
Founded in 1985 by Mark Abernathy, Western Pacific Research, Inc. is dedicated to electing Republicans to Federal, State and local areas of government. WPR is involved with multiple organizations effectively promoting the beliefs of the Republican Party. 

WPR believes in reaching a broad base of people through its work with groups such as the Kern County Republican Party and the Kern County Central Committee. WPR also believes that youth and diversity are crucial elements to the future of the Republican Party, which is why WPR is proud of its association with the Kern County Young Republicans and the Kern County Hispanic Congress of Republicans.
Have you read enough yet?  Do you want to stop this?  Read the message from Richard Gillock behind the fold and learn what you can do about it. Even if you don't live in Hungtington Beach, I think it's important for everyone to be heard.
Another attack on the Separation of Church and State is unfolding in the Huntington Beach City Council Chambers on Monday April 7th.

A conservative evangelical Christian group has started a program to post "In God We Trust" in every city council chamber in the country.  Dozens of cities, mostly in rural California counties, have spent city treasure to mount elaborate displays of "In God We Trust" in their council chambers.  Now this program has spread to Orange County, and is being introduced by HB Council Members Cathy Green and Joe Carchio.

An agenda item (H1a) for the April 7th City Council Meeting addresses the endorsement of the phrase "In God We Trust" and its prominent display within the City Council Chambers.  Such a public statement does not contribute to either public policy or the effectiveness of governance in the city. 

Those of you who can, especially residents of Huntington Beach or who have family connections there, please attend the Monday April 7th at 6:00 pm City Council Meeting:

HB City Council

200 Main St.

Huntington Beach, CA 92648

Agenda: http://www.ci.huntington-beach.ca.us/Government/agendas/council_agendas.cfm

f you cannot attend, send an e-mail to each of the City Council Members:

Mayor Debbie Cook: dcook@surfcity-hb.org

Mayor Pro Tem Keith Bohr:  kbohr@surfcity-hb.org

Council Member Joe Carchio:  jcarchio@surfcity-hb.org

Council Member Cathy Green:  cgreen@surfcity-hb.org

Council Member Don Hansen:  dhansen@surfcity-hb.org

Council Member Jill Hardy:  jhardy@surfcity-hb.org

Council Member Gil Coerper:  GCoerper@surfcity-hb.org

For more information about these council members go to:  http://www.ci.huntington-beach.ca.us/government/elected_officials/city_council/council_bios/

This is part of an orchestrated program by the conservative evangelical Christian community.  While a numerically small constituency, it is very vocal, and demands ultimate religious conformity.  Evangelical Christians have fought, and lost, to place the Ten Commandments in prominent government places.  Their goal is to intimidate those who do not share their narrow beliefs.

The First Amendment to our Constitution begins "Congress shall make no law respecting an establishment of religion, or prohibiting the free exercise thereof…"  Clearly in the early 1950s, the Cold War Congress broke this national foundation of personal liberty by injecting "God" into our Pledge of Allegiance, our National Motto, and our currency, while introducing a National Day of Prayer.  This was believed to be an answer to "Godless Communism."  Each of these things seems innocuous, unless you consider that Congress has no right to question the patriotism of Americans based upon their religious beliefs.  Access to our government should not be conditional upon sharing a Judeo-Christian faith.

Please consider carefully what secular purpose the introduction of "In God We Trust" serves the community.  What message of openness and access to city government does it send?  Does it contribute to community unity or does it divide us?  Is it necessary?

Remember, our original National Motto is "E Pluibus Unum," From Many, One!

Thank you for your grass roots support for Separation of Church and State.

Rich Gillock"