I never served, and as State Rep. Chuck DeVore will tell you, I don't get military ethos.  But this story from the NY Times is serving to make me angry, sad and sick to my stomach all at once.  The picture below is from a shelter for homeless vets in San Diego.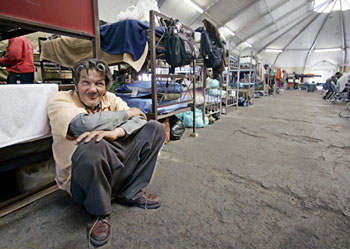 From the story:
****Experts who work with veterans say it often takes several years after leaving military service for veterans' accumulating problems to push them into the streets. But some aid workers say the Iraq and Afghanistan veterans appear to be turning up sooner than the Vietnam veterans did.
"We're beginning to see, across the country, the first trickle of this generation of warriors in homeless shelters," said Phil Landis, chairman of Veterans Village of San Diego, a residence and counseling center. "But we anticipate that it's going to be a tsunami."
With more women serving in combat zones, the current wars are already resulting in a higher share of homeless women as well. They have an added risk factor: roughly 40 percent of the hundreds of homeless female veterans of recent wars have said they were sexually assaulted by American soldiers while in the military, officials said.
"Sexual abuse is a risk factor for homelessness," Pete Dougherty, the V.A.'s director of homeless programs, said.
Special traits of the current wars may contribute to homelessness, including high rates of post-traumatic stress disorder, or PTSD, and traumatic brain injury, which can cause unstable behavior and substance abuse, and the long and repeated tours of duty, which can make the reintegration into families and work all the harder.*****
So where is the compassionate conservative movement when it comes to supporting our troops after they leave the battlefield?