We all need to thank Marilyn Davenport for the lesson that one should pause before hitting "send" on an email. And her later chracterization of the "coward" who forwarded the Obama as the child of chimps email to her friends is actually the opposite; that person exposed Davenport as someone with a sense of humor out of touch with most Americans is actually more of a hero for doing so.
The story broke late on a Friday night that anyone who handles PR will tell you is the ideal time for bad news to get out (the only more ideal tiem is the Friday before a holiday weekend). But as Scott Moxley's original post approaches several hundred comments, it's clear this story isn't going away. One has to wonder what Michael Steele would say? What about Condi Rice? J.C. Watts hasn't chimed in.  Closer to home, Tustin council member Al Murray is pretty quiet. So have the bloggers from the FFFF blog who reside under Davenport's CRA representation.
While OC GOP chair Scott Baugh has called on Davenport to quit, are their any rules in place the CRA should use to actually make her do so? 
Davenport's email has made it to the Los Angeles Times, KCBS, KCAL, The Dallas Morning News, the Huffington Post (and requisite AOL News sites), the New York Daily News, YouTube, BuzzFeed, Democratic Underground and multiple blogs and Twitter feeds; Googling "Marilyn Davenport and Racist returns 787,000 results.  Wow.
My conservative friends keep pointing to numerous references by the Left to President Bush as a Chimp during his presidency.  Those references with photos of Bush and separate photos of Chimps with similar expressions were clearly references to the former president's intelligence level (or lack thereof).  Many of the links to Bush as Chimp are long since dead but some still appear. 
Racist?  No. 
Wrong? Depends.
In the context of attacking the president's intelligence, seems like satire to me.  Showing a photo of former President Bush holding his infant twin daughters and a similar photo of a chimp holding two baby chimps IS wrong, not just to the man but to the girls.  I'm reminded that radio host Stephanie Miller was criticized by the Conservative Right for saying on the air that Speaker John Boehner was actually darker than President Obama during the State of the Union address.  That wasn't racist — it was obvious.  The speaker likes his tanning beds and his Orange hued skin color sometimes makes him look more like an Oompa Lommpa from Willie Wonka.
I prefer mocking the current Speaker's ability to cry at the drop of a hat to his Orange-hue.  But the notion of comparing the First Couple to apes has been around longer than Marilyn Davenport's email.
This blog post from 2009 says First Lady Michelle Obama looks like a giant Chimpaneze.  The comments are equally priceless, one comparing her to a Sasquatch.  And images on the site are loaded with photoshops sure to delight avid Tea Partiers.  Like this one:
Or this one:
and there's this one from another blog: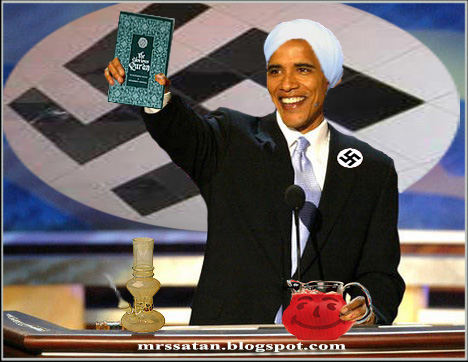 I have no problem using photos of Republican electeds, conservative media figures, or former Republican leaders as clowns.  That seems pretty harmless.  Showing photos of them with KKK sheets seems offbase at best.
We should debate the merits of policy and ideas.  It's not like Republicans aren't providing enough fodder for us.  The most recent budget pased by the House would alter Medicare forever (interesting since Republicans campaigned against Healthcare Reform on these very grounds) and lowers the tax rates for the richest one percent of Americans from 35 percent to 25 percent under an illusion that the tax cuts will result in increased investments, more jobs and more revenue even though we have 10 years of Busgh tax cuts as evidence tax breaks for the rich do no such thing.
So by all means, members of the left, mock the ideas, mock things they say, go after them on policy and priorities.  Go after them on how they execute their positions.  Hey, if a Republican elected official is acting like a gang member, call them out on it (as gangster cross all sorts of racial and ethic boundries). Call them a clown.  Or a crybaby.  Or heartless.  But can we keep race out of it?
For Ms. Davenpoort, I'm sorry that she still believes there is any ambiguity about the president's birth in Hawaii.  That's settled matter.